Traveling with a filtered water bottle is a win-win…win. Not only will you help to reduce waste and always have a reliable source of safe drinking water, you'll also save money.
According to The Guardian, more than one million plastic bottles are sold every minute worldwide. In addition, bottled water requires up to 2,000 times the energy used to produce tap water. All of that adds up to more garbage and more emissions that harm our planet.
Adding a reusable filtered water bottle to your carry-on is a simple way to help combat this growing problem. While there are plenty of amazing options for you to choose from, we think the following is the best water bottle with filter for travel.
Lifestraw Water Bottle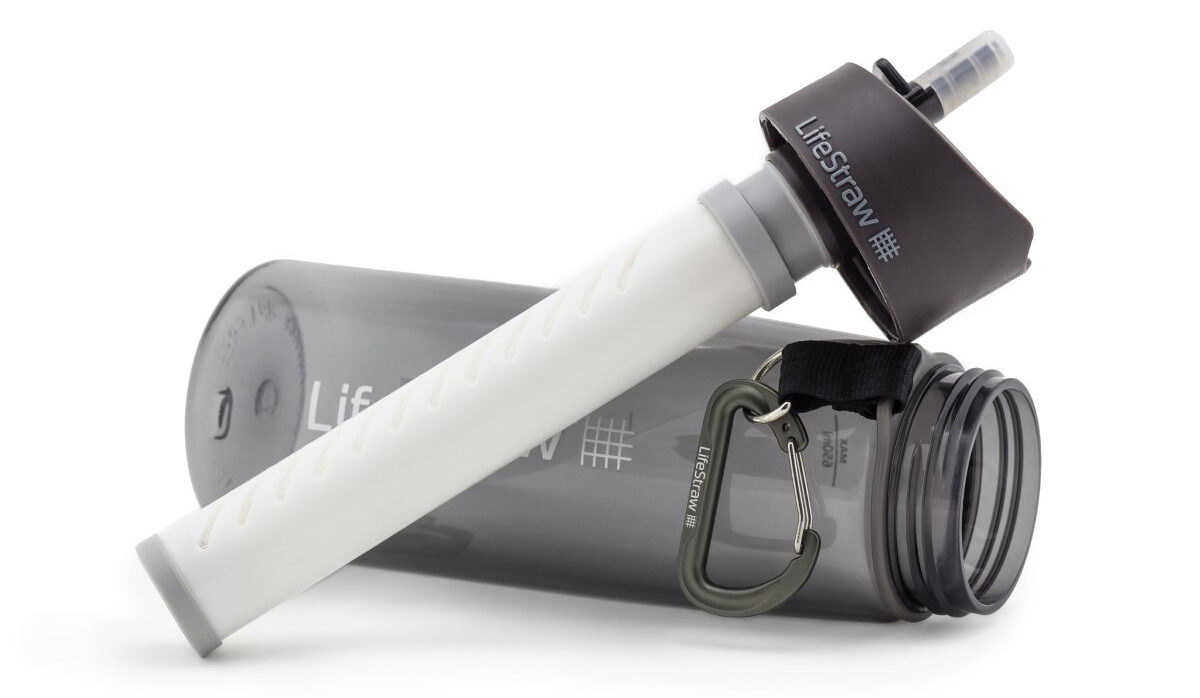 It looks like a regular ol' water bottle on the outside, but inside the Lifestraw Go is a sophisticated filtering system that eliminates bacteria, parasites, chemicals and other contaminants. Meaning, you can fill up this 22-ounce water bottle from any nearby source (seriously, a faucet, a river, doesn't matter!) and have clean drinking water on the go.
The Lifestraw water bottle is also BPA-free, dishwasher safe, super-durable and includes a carabiner for easily hooking it onto your suitcase or backpack.
"This water bottle is amazing—a must have for travel! I purchased it before a trip to Havana and could not have been happier with it. I filled it from all kinds of taps in Cuba (public restrooms, hoses, kitchen sinks) and didn't have any health issues—it definitely makes the water safe to drink! It was so much easier and way less wasteful than having to find bottled water everywhere," says Amazon reviewer Cass Madden.
Plus: Add these other best-selling travel items on Amazon to your wish list.
Water Bottle Price
At about $40, the Lifestraw Go certainly isn't the priciest water bottle on the market, but it's also not the cheapest. However, you get what you pay for and then some. It's available in 15 different colors and patterns, with two 2-pack options for about $70 each.
The 2-stage filter lasts for up to five years, according to Lifestraw, and you can buy a replacement for about $25. You can also purchase two carbon filter replacements for about $10.
In addition to getting a water bottle that provides peace of mind while you travel, each purchase of a Lifestraw filter water bottle comes with a promise that a school child will receive safe water for an entire year. That's money well spent, don't you think?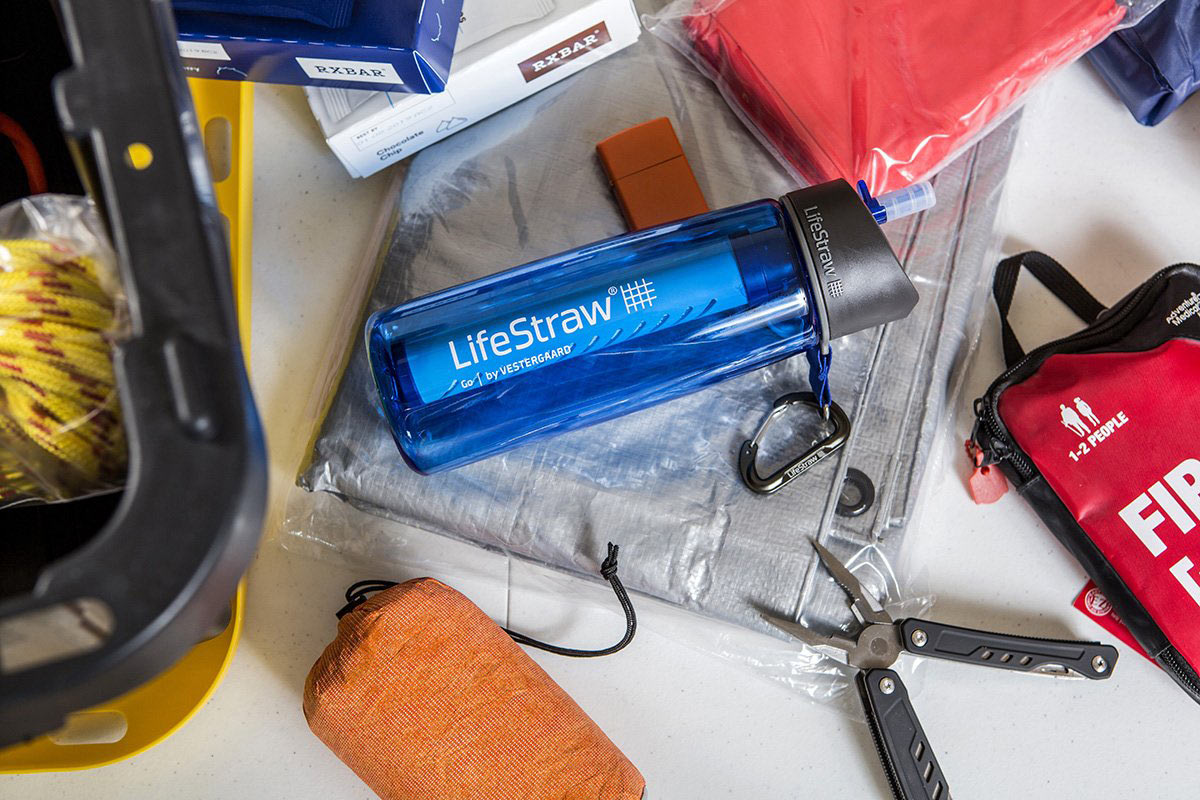 What Does the Lifestraw Water Bottle Filter Remove?
Powered simply by suction, the hollow fiber filter and activated carbon filter inside this water bottle remove the following contaminants, according to Lifestraw:
Bacteria
Parasites
Microplastics
Chlorine
Pesticides
Herbicides
VOCs
Silt, sand, cloudiness
And, as you would imagine, filtering out all of these impurities also makes the water taste and smell better. Chalk it up as yet another win for this do-it-all water bottle!
Bonus: The Best Everyday Water Bottle with Filter
Brita Water Bottle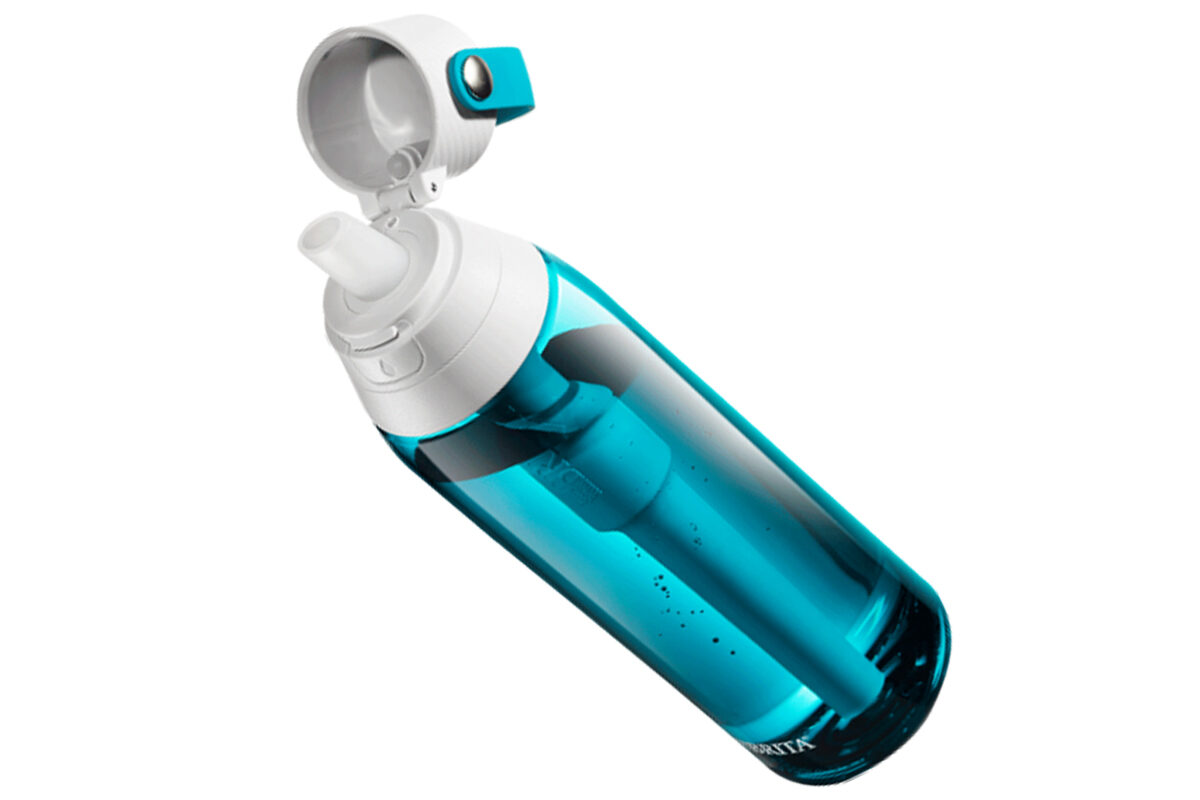 This affordable filtered water bottle (about $25) is ideal for using at home, work, the gym or when tap water isn't potentially dangerous. The Brita filter water bottle is BPA-free and the replaceable filter eliminates chlorine flavor and odor as well as particulates.
Plus, according to Brita, just one of this product's filters can replace up to 300 disposable water bottles. And, over the course of a year, one Brita water bottle with four filters can save you about $400 compared to the same amount in bottled water. That's money you can use for your next trip!
Next, check out two more amazing products that techie travelers are loving right now: this smart suitcase and these tracking devices.
Every product is independently selected by the editor. If you buy something through our links, we may earn an affiliate commission.