What was once reserved for those with a garage, a vehicle, and above-average upper body strength is now more accessible than ever before. Owning your own kayak that you can take out on the water whenever the mood strikes is the pinnacle for any paddler. Oru kayaks make that possible, albeit for a pretty penny. We recently tested out the brand's Beach LT model. Read on to learn how the folding kayak works, how it performs on the water, its best and worst features, and the other models available.
How does a folding kayak even work?
Contrary to what its nickname suggests, the origami kayak is not made of paper. Rather the entire shell is one piece of 5 mm double-layer custom-extruded polypropylene. The material looks more like the corrugated plastic bins the post office uses to sort mail. It's durable, extremely lightweight, and can be folded and unfolded time and time again—that's where the origami reference comes in!
Built-in creases, buckles, and signage make assembly and disassembly quick and easy. Plus, Oru sets you up for success with plenty of tutorials at your fingertips. We watched one video the first time we assembled the Beach LT and had it down.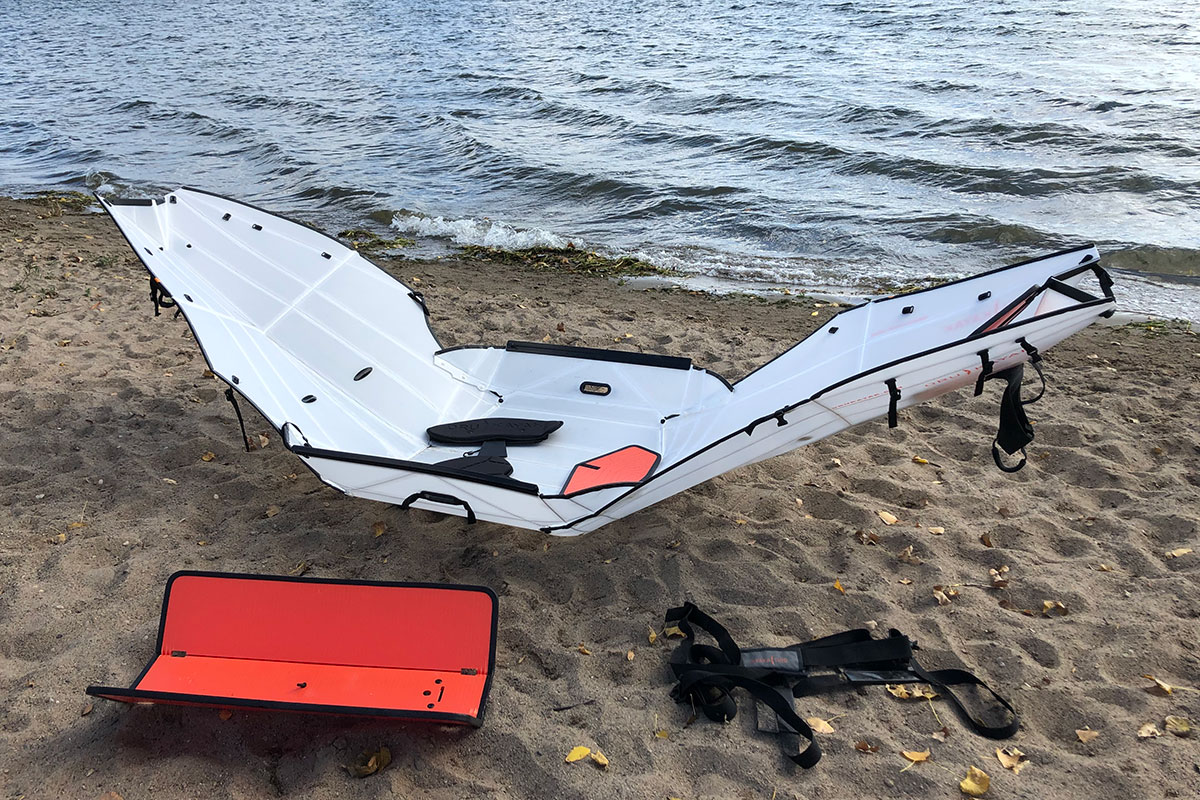 The carrying case is essentially the boat itself. All of the necessary pieces are either part of or are stored inside the folded hull. Once opened up, it's easy to find the designated locations for the two bulkheads, two seat pieces, and the floorboard. Securing the shell around the bulkheads can be a bit challenging for one person, but loosening the straps first makes the job a lot easier. Just be sure to cinch them up after buckling. Bungees and straps brace the footrest and seat back, and both parts are adjustable. Finally, soft handles stretch over the ends of the bow and stern for easy transport in and out of the water.
The end result is a legit boat that floats!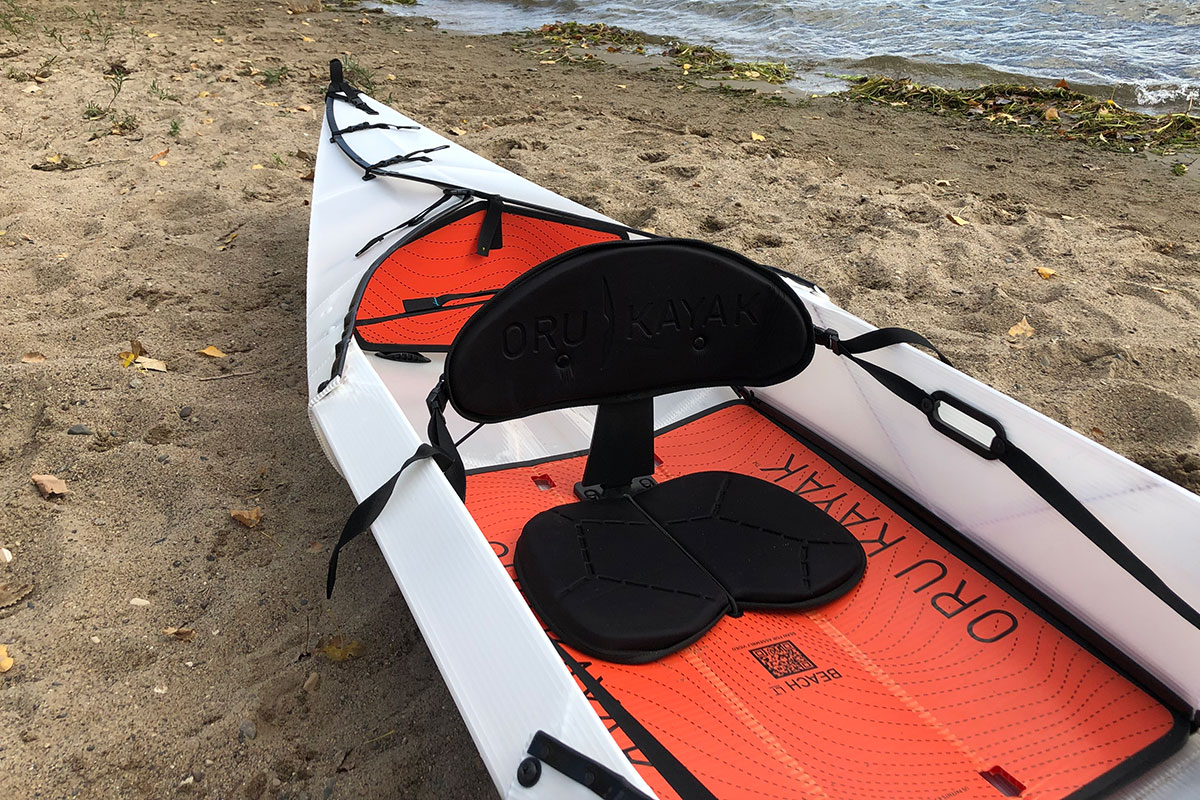 How does the Oru Kayak perform on the water?
We took the Oru Beach LT to a couple of our favorite spots in the Twin Cities area, Bush Lake in Bloomington and the always-bustling Bde Maka Ska in Minneapolis. As you might expect, more than a few passersby looked on as we transformed what seemed to be a small suitcase into a translucent kayak. While we didn't mind the unexpected attention, some might.
Launching from a lake beach is a breeze, especially compared to traditional recreational kayaks that are made of heavy rotomolded plastic and usually require two people to carry into the water. The Oru kayak is as light as a 25-pound feather, and easy enough for one person to hoist over a shoulder or drag along soft sand.
Getting in and out of the cockpit can be a bit awkward. If your legs aren't long enough to straddle the boat, lower your bum onto the seat, and then tuck your legs in (usually the most stable way of entering a sit-in kayak from shore), the next best approach is to carefully step into the center of the cockpit and maneuver onto the seat while keeping your center of gravity low. We tried both ways of entering the folding kayak and felt safe doing so.
Adjusting the seat back and foot brace are easy to do from inside the cockpit, which is just as important for safety as it is for comfort. Maintaining good posture and using your lower body for stability will make paddling easier, so you can be out on the water longer. If you're familiar with this concept, you may wish the origami kayak provided more resistance at your feet.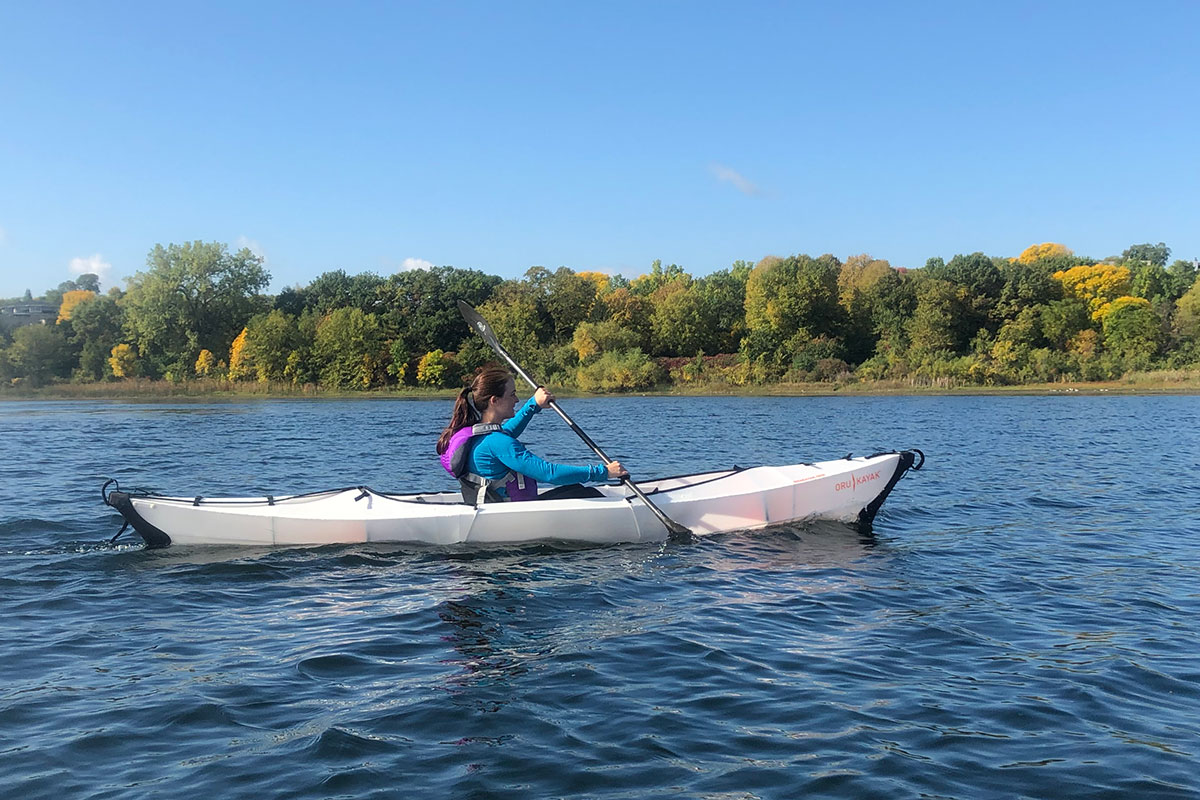 On calm lake water, the ultralight Oru kayak practically skims over the surface. That could prove challenging on windy days with excess chop, but Oru has other models better equipped to handle those conditions. For flatwater recreation, the Beach LT performs beautifully.
One of our preconceived notions was that the folding kayak would be tippy, which proved not to be the case at all. It's well-balanced and fairly agile. The large open cockpit aids stability plus provides extra space to bring along a cooler and water bottle or even a pet, as long as the overall weight remains under the 300-pound capacity.
Packing up can be messy on a sandy beach or muddy lakeshore, but that's nothing new for paddling enthusiasts. Just bring an old towel to wipe down the collapsible kayak before and during disassembly if you want to keep things squeaky-clean.
Who is a folding kayak best for?
As we alluded to above, Oru kayaks are pricey. The brand's smallest model, the Inlet, starts at about $900. That's significantly more expensive than many other recreational kayaks on the market. But in addition to quality, you're paying for convenience with a folding watercraft.
First and foremost, the Oru kayak is a good boat, and that's suitable for any paddler. But what sets it apart—that it collapses down to a suitcase-size package for easy transportation and storage—makes it best for paddlers with space limitations.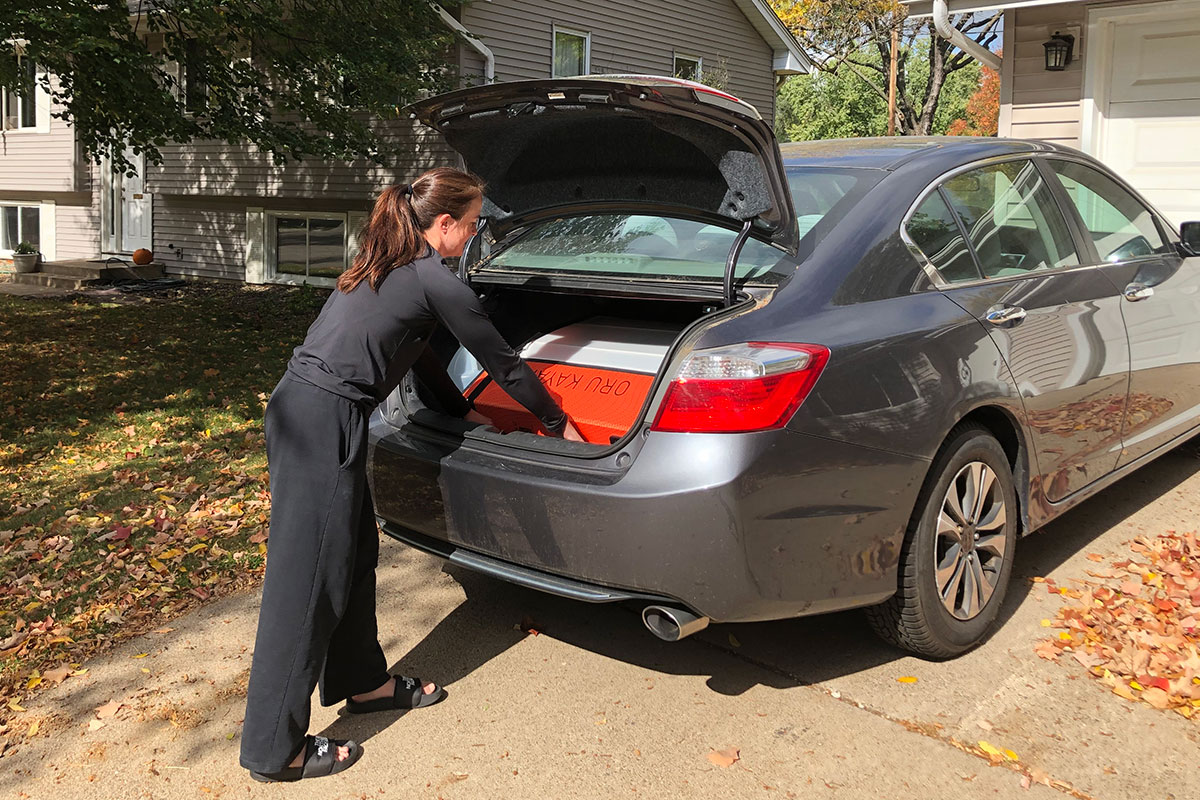 We fit the foldable kayak in the trunk of a small sedan, right alongside necessities like a jug of windshield wiper fluid, jumper cables, and blankets. Don't have a car? It can also ride with you on a bus or train or as checked luggage on a plane. And storage is as simple as clearing a shelf or the floor of a small closet.
Space savings aside, Oru kayaks are also ideal for remote travel. Portaging is easy with a folding boat, especially if you add the nylon pack accessory with padded shoulder and hip straps. It allows you to hike to secluded bodies of water that aren't accessible by vehicle.
Discerning kayakers may be skeptical. Let's be honest, an origami boat seems a bit gimmicky. That's certainly what we thought—at first. You wouldn't want to take it into extreme whitewater rapids or over waterfalls, but the Oru kayak holds up for most recreational and light touring adventures.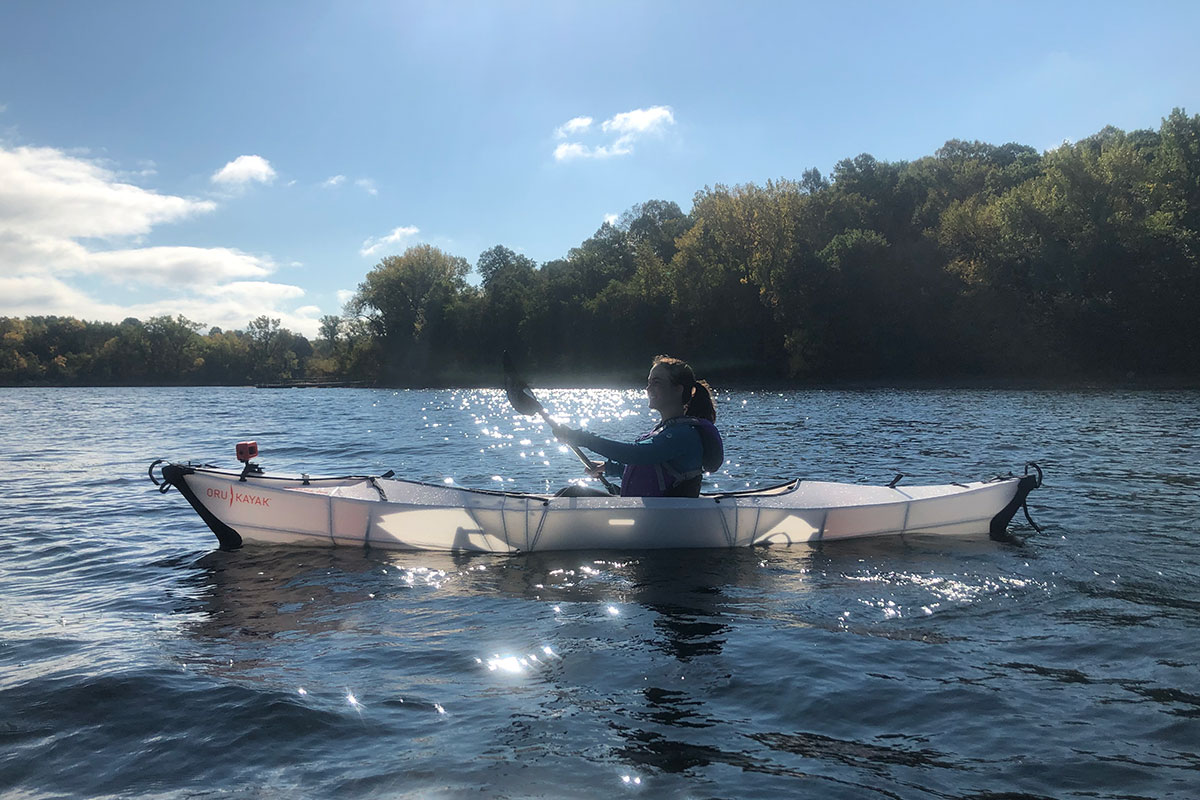 Where does one travel with a folding kayak? Might we suggest La Jolla, California, or McCall, Idaho.
Oru Kayaks You Can Buy Right Now
There's an Oru Kayak model for every type of paddler. Here's what's available in Oru's current line of foldable kayaks:
Inlet is the smallest recreational kayak from Oru at just over 9 ft. 8 in. and weighing only 20 pounds. It's best for beginner paddlers on still water. Get the Inlet for $899.
Beach LT is a mix between a recreational and a touring kayak. It measures 12 ft. 1 in. long and weighs 25 pounds. Casual paddles with your pet or day trips with a fully stocked cooler are doable with the Beach LT priced at $1,199.
Bay ST is the original origami kayak from Oru and features a true sea kayak design with a closed cockpit equipped for a spray skirt. It's 12 ft. 3 in. long, weighs 26 pounds, and can handle open water and ocean surf. Intermediate to advanced paddlers can get the Bay ST for $1,499.
Coast XT is the longest kayak in the lineup, measuring 16 ft. 2 in. and weighing 32 pounds. Advanced kayakers can throw on a spray skirt and embark on serious open-water adventures with the Coast XT for $1,999.
Haven TT is the only true tandem option from Oru. It's 16 ft. 1 in. long and weighs 41 pounds. The brand touts it as the most stable and versatile model, making it great for families with paddlers of all ages and abilities. Get the Haven TT for $1,999.